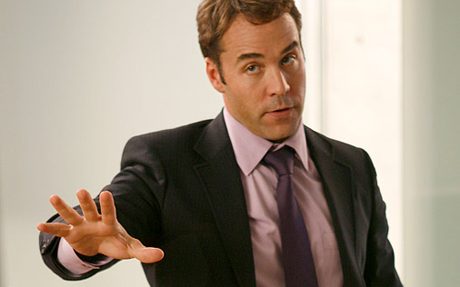 Tomorrow (30 September 2010) I'm emceeing Social Collective – a social media conference being held in London.
As usual, I turned to google for some advice (I started with 'how to rock the mic right') before stumbling on some more classical top tips for public speaking.
While useful, they didn't quite do it for me, so I enlisted the help of Hollywood's baddest agent, Ari Gold (from Entourage) to help put his touches on these pearls of wisdom.
Here is our combined take…apologies up front for any abrasiveness…
Rehearse in front of a mirror
What? No! Unless you like Angelina Jolie or Brad Pitt, do not rehearse in front of a mirror. Better yet, go find a life size brown paper bag, wrap yourself in it and pray that you get thrown out with the weekly garbage. Next.
There are times when you have to tactfully play the role of sheriff. For example, when phones go off, an early warning shot tends to do the trick. But a second infringement can't go unpunished. I like having a box of brick style mobile phones next to me when on stage, and I'll fire them towards the skull of anyone who interrupts my flow repeatedly. Side tip: Make sure the event owners have a decent public liability in place before adopting this tactic.
Imagine the audience naked
No-one, and I mean no-one, looks good naked. Clothes were not just invented for practical reason, they exist to cover up all the bits that can trigger violent episodes of vomiting. Even if you spot someone showing too much leg in the audience, get them to cover the f**k up.
Start off with a joke
Do you know what is worse than starting a speech with a pre-prepared joke? Nothing. No, seriously. Showing a video of animals being tortured is probably going to be received better. Aim for being one notch above mediocre at all times, at least then you won't set yourself up for an inevitable fall.
Wear a cartoon tie to show you have a sense of humour
The only thing that could be worse than wearing a cartoon tie is having a swastika tattooed across your forehead. See, the thing with humour is that it is fleeting. It's an observation. It is not something that stays with you all day, becomes distracting, before eventually becoming the noose from which you are hung from at the after party (if you make it that far).
Use buzzwords to build rapport
Do you remember when you were growing up and your Dad would use 'kid talk' at your birthday parties? It wasn't cool then, and it definitely isn't cool now. Buzzwords and phrases are not only patronizing but they generally don't make any sense. 'ROI' is better suited to describing a part of the world where Leprechauns come from, not how little impact your latest ill-conceived campaign had. True story.
Realize that people want you to succeed
Are you kidding me? All an audience wants is for you to say 'penis ready' when you really meant to say 'pens ready'. It's human nature, we like laughing at other people's misfortune. You are more than welcome to believe others want you to succeed but they are probably the ones sending text messages back and forth from one another guessing how much your shoddy, ill-fitting, suit cost .
Don't apologize
See, this tip I agree with. Never apologize. The experts will tell you that making an apology while giving a speech is pointless and will only magnify a mistake that no-one really noticed anyway. I say take this a step further. Don't ever apologize, in any situation. It makes you look weak. Even when you catastrophically mess up, just smile and say "you heard".
That's as preachy as I'll get today.
Below is a short clip of one of Ari's best public speaking moments or just head to YouTube and search for Ari Gold speech – hours or fun to be had.
If you can't attend SoCol tomorrow (and there still are some tickets available), follow the #SoCol hashtag. Despite my involvement, it should be a great event.
Adam (and Ari)
Note: For (seriously) one of the best posts you'll ever read about public speaking, check out this one from Duarte's blog: Justin Timberlake and the art of presenting well