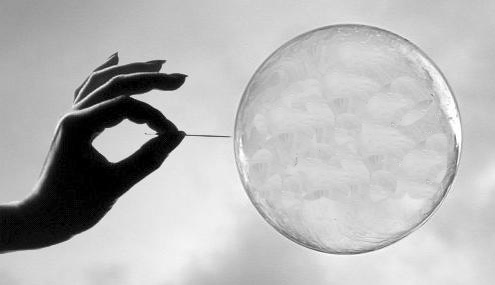 … or thereabouts
When it comes to the social media bubble bursting, it appears the majority of communicators agree it is not a matter of if, but when.
My hypothesis is that we'll reach that point in 2014, based on this view:
2010: The year everyone talked about social media marketing
2011: The year social media marketing becomes a regular way of life for forward thinking brands / orgs
2012: The year it becomes a regular way of life for all brands, but with some decent budget to support it
2013: A year of consolidation, budgets are finally about right, and it's done more than talked about
2014: The bubble bursts – social media isn't so special any more, it is actually seen as simply a part of the overall communications package…by everyone
The two questions I'd probably ask if I read something like that would be:
1. What is that thinking based on?
2. What does it mean for communicators and brands right now?
Let me address both.
Why 2014 and what it means now…
I'm not going to reel off a bunch of social media adoption statistics here, or tell you how many people will be blogging in 2014 because I think numbers like that are quite irrelevant.
I am going to base this on what I see happening in organisations right now, what my clients are telling me and how their set ups are changing.
While agency people have developed a serious case of Social Media Desperation Disorder (SMDD) in 2010, big business has been getting its head around how to structure themselves internally to do social media properly.
The major stumbling block hasn't been that they don't know what to do, but rather finding the budget to do it.
Marketing budgets are already stretched and social media, which was wrongly positioned as a cheaper way of communicating for most of 2009, is now being rightly seen by organisation as an investment in talented people, not platforms.
So, if my feeling on this is right, based on a combination of instinct and insight, brands and organisations have a very difficult choice to make:
A) Invest in social media now, so by the time the start of 2012 rolls around, they are equipped to reap the benefits and minimize the risk sufficiently.
Or
B) Wait another 12 months until budgets have more give, know exactly what direction to take, and then get your house in order.
The problem with option B is that timing is not a luxury that brands / orgs have.
What is the solution then?
It comes down to each individual business, none of which are the same.
Each has different products, margins, structures, people and most importantly, priorities.
Should social media be at the top of that priority list?
No, overall communications structure should be, because when the bubble bursts, robust social media solutions will simply be a part of what is expected from them, just like everything else.
Are you ready?
Adam